Register today
New to Mytime Active Childcare Services?
Register for childcare and book on our IPAL portal.
Manage existing account
Are you an existing customer?
Make bookings and manage your online wallet.
Childcare that your children will love
Our Ofsted regulated breakfast and after school clubs are fun, friendly and packed full of activities, providing a safe environment for primary school children whilst parents work.   
We operate Monday to Friday, term time only

Breakfast Club from 7:30am to start of school day

After Sschool Club from the end of the school day until 6pm
Our Values:
Our clubs are run with core value in mind.
Be Active

 

Eat Well

 

Be Positive

 

Be Together

 

Children have 1 hour of physical lead activity for club with learning points and progression stages

 

Menus designed by paediatric nutritionists balancing food groups

 

Positive behaviour reinforced and recognised in children by staff and peers

 

Children play collaboratively with all age groups across the school year

 

Linked to national curriculum outcomes, EYFS and NHS guidance of 60 minute exercise per day

 

Healthy substitutions such as margarine rather than butter, brown bread rather than white

 

Mindfulness incorporated in to a calming activity along with quiet time to decompress and relax

 

All about me sheets completed each term so children can learn about each other and make new friends

 

Range of activities from team sports, creative arts and games

Children aid with the preparation of food such as chopping and questioned and asked as to why we eat healthily

On the spot feedback and recognition given to children and praise in front of peers

Parents encouraged to attend first sessions and drop in to see their child playing and developing
Our affordable clubs provide ways for kids to play, learn skills and gain new experiences. Each day, our clubs provide fun and creative sessions, where your child can choose to play independently with toys and equipment or take part in an adult led activities.
We also provide healthy snacks plus indoor and outdoor physical activities at every session, so you can rest assured your child is well looked after in every sense.
Our clubs are available at:
Club name
Address
Contact

Alexandra Breakfast
& After School Club

Alexandra Junior School,
Cator Road, London,
SE26 5DS

07512 602069
alexandra@mytimeactive.co.uk

Kent House After School Club

Harris Primary
Academy – Kent House,
High Street,
Kent House,
SE20 7QR

07512 601930
kent.house@mytimeactive.co.uk

St Nicholas Breakfast
& After School Club

St Nicholas C of E
Primary School,
School Road,
Chislehurst,
BR7 5PQ

07512 602221
st.nicholas@mytimeactive.co.uk

Unicorn Breakfast
& After School Club

Unicorn Primary School,
Creswell Drive,
Beckenham,
BR3 3AL

0208 663 2638
unicorn@mytimeactive.co.uk
The Ofsted reports for our clubs can be found here.
What does a typical day look like?
Each Breakfast club starts with a smiley welcome from 7:30am and a choice of breakfast items for the children. Children can relax and eat and then choose some activities to do before school starts. We will then drop the children off at their classes ready for a day of learning.
After School club kicks off when the school day ends. Our team pick your children up from class and bring them to our dedicated club space. Here they will take register and then have the choice of a group activity or individual play. We always have a led sporty activity on offer whether this be a Mini Olympics, game of football, playground games or a sport of the child's choice followed by a craft corner where the children could be designing a club banner, making a junk model or designing a poster. We have created specialist session plans involving core curriculum and EYFS requirements.
We then have a snack, we have a revolving menu with plenty of healthy choices for the children. We involve the children in the food preparation and cleaning up before and after snack so they can see what they are eating and learn some new skills. 
After all the fun it is time for pick up!
Eat Well - Our Menus
Breakfast is a choice of no added sugar yummy cereals, wholemeal toast and spreads, seasonal fruit, yoghurts and fresh drinking water and plain milk. All meals served with fresh seasonal fruits.
After school snacks are as shown below: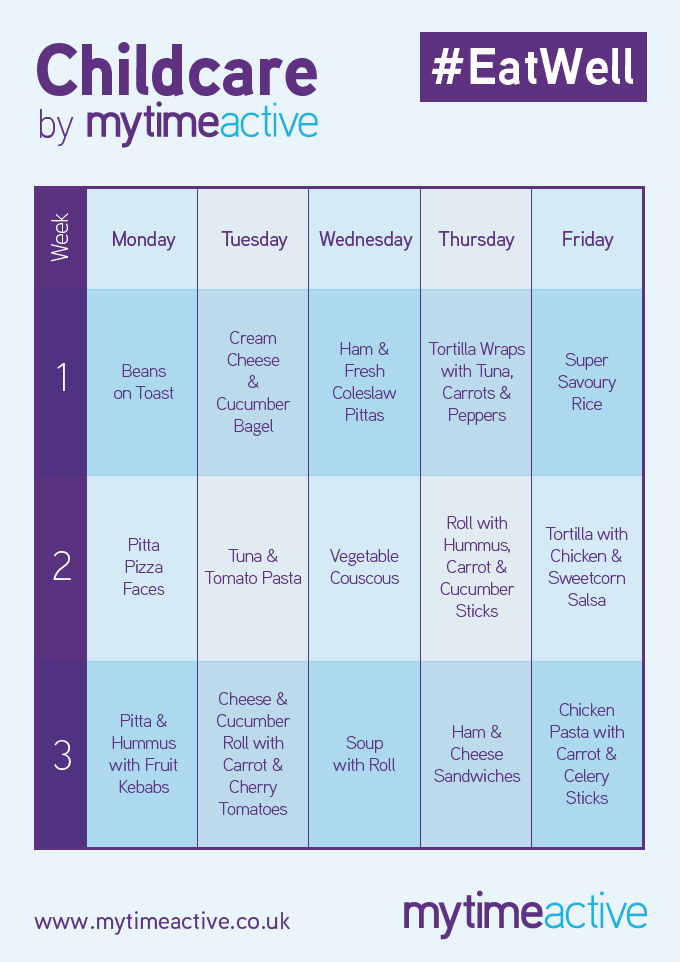 How to book:
We are using a fantastic new system to book called IPAL. IPAL makes it easy for parents to pick days, times and make and organize payments for their childcare.
Click our button above to take you to IPAL where you can register yourself, your child, make your bookings and manage your online wallet. 
Find some videos of how to book here.
Session prices:
Member Type
Breakfast club
After school club

Temporary member:

A non-regular member booking on an ad hoc basis

£9
£16

Subscribed member:

A regular member with an annual subscription

£8
£14.50

Emergency booking service:

Attendance at site without pre-booking. Less than 24 hours notice

£12
£23

Late collection fees

Customers will be charged for each 15 minutes that they are late for collection of their child

N/A

£15 for every 15 minutes
Testimonials:
Thank you from the bottom of our hearts for being such a wonderful team... Your welcoming nature and the wonderful level of care provided helped him settle in well at a tricky time for us as a family. I will forever be grateful for the kindness you showed him and us as a family when we needed it. - Sachin, Parent
I am very happy with the service provided. I feel confident that my children are in safe hands... and that they are well cared for with fun activities and given responsibility to help with cleaning and washing up etc, which i know they enjoy and it's good for them to learn. - Catherine, Parent
I don't think I have ever seen you not smiling. Kindness is priceless, thank you for surrounding my son in that! - Laura, Parent
The girls have loved it, so thank you for making them so welcome and keeping them entertained while we work. It is so much appreciated. - Joanne, Parent
More information and files:
Please take a look at our parents hand book for more information about the clubs and also some useful files we may need for your children
Childcare Handbook  Medicine Form  Allergy Form
If you still have any questions please email us here.
Is your school looking for a new club provider?
If you are looking for a new provider, we are here to help! Please contacts us to find out more information about our clubs and how we operate.
Manage existing account
Are you an existing customer?
Make bookings and manage your online wallet.