More award success for our fantastic volunteers!
14 July 2023
It was a successful night at the Bromley Community Links awards last night with MyTime's Primetime Buddies being finalists in the Volunteer Team category and Ann Wilbourn winning Volunteer Manager of the Year!
Ann is our Primetime Manager, who's been leading our Primetime programme since 2008, expanding it to offer over 90 physical activity sessions each week, including specialised programmes for those with limited mobility and fitness. Under Ann's guidance, Primetime memberships have grown from 80 in 2008 to over 2,400 members today.
Ann goes above and beyond her role as a champion for older adults by passionately advocating for our inclusion initiatives, such as MyClub and dementia-friendly activities. She has effectively utilised the power of volunteers, leading our fantastic team of 24 dedicated "Primetime Buddies" whom she personally recruited, trained and continues to manage and support.
Our Primetime Buddies volunteer across nine different Mytime Active facilities and community venues in Bromley, giving over 3,000 hours annually. They serve as role models, champions of physical activity and peer health mentors, actively participating in various exercise classes and facilities, making them excellent examples for our Primetime participants and newcomers to exercise. Buddies also provide assistance, guidance, support and a warm welcome to individuals, helping them navigate our facilities, access programmes and promote positive health.
Congratulations Ann!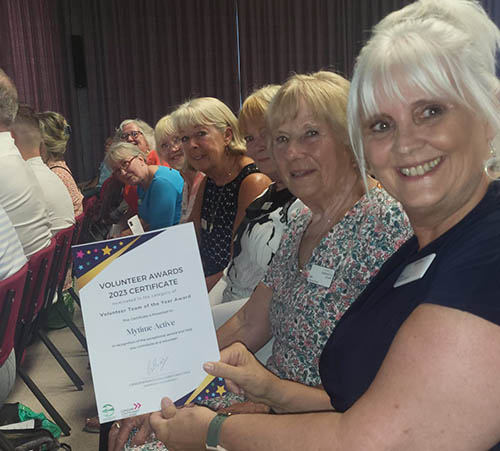 Golf
Health
Leisure
Mytime Active