Summer Swimformation - top tips and advice from the Mytime Active Swim team!
20 July 2023
Welcome to Swimformation, lots of top tips and news about classes, the pool and what to expect when you attend.  With the help of our swimming coordinators and aquatic experts we want to ensure you are making the most out of the pool.  We want our customers and members to love the water, from any age and to progress and know about the offerings we have at our pools. 
Adults
Adult swim tip of the month from Joe (Swimming Coordinator West Wickham and Biggin Hill) : Freestyle (front crawl) – Ensure you are keeping a high elbow recovery over the water. This will speed up the recovery phase of your stroke whilst utilising larger muscle groups to increase efficiency. A good drill to develop this is 'drag drill'. Once your arm is coming out of the water drag your fingertips along the surface of the water, keeping your elbow pointing to the ceiling and fingertips down to the floor.  Give this a try and see if it feels any easier in the water.
Preparing to swim from Joe: Not all warm-ups have to be done in the water. You can prepare yourself on the land by working on your mobility by using various exercises/dynamic stretching. This month's exercise is 'Spider-Man stretch' also known as 'Worlds greatest stretch'. This dynamic stretch helps to mobilise key joints such as the ankles and hips, whilst also lengthening the thoracic spine. It manages to do all of that at the same time as engaging many muscles throughout the body, it is definitely the best exercise for warming up to loosen off those cobwebs.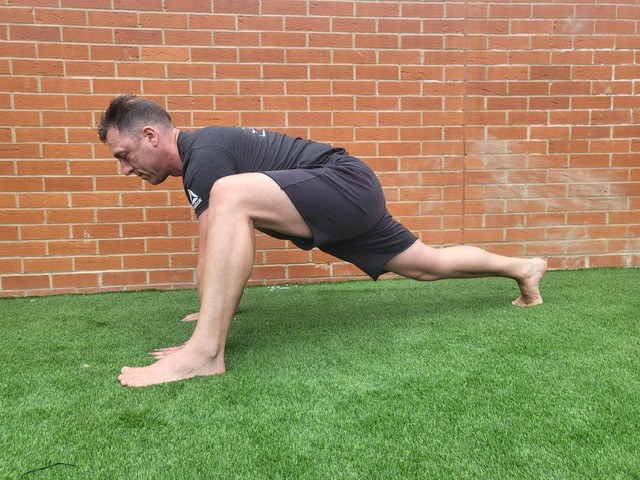 Swimming for Fitness
Did you know about the Just Swim app from Swim England?  The Just Swim App allows you to track your swimming progression, set yourself goals and challenges as well as information on stroke technique, swimming with a medical condition and top swimming news stories. 
Children
Whilst swimming lessons are a great start on your child aquatic journey, taking them to the pool for family splash sessions between lessons will help increase their water confidence.  Here are some ideas for the pool and bath for you from our Swimming Coordinator Vicki at The Pavilion-
Babies/toddlers/preschool and stage 1
Purchase a toy watering can and encourage the little ones to pour water over their own head and whoever they are swimming with. Also, can be done while in the bath.

Encourage children to blow bubbles in the water. This will make them more comfortable in the water.
One for every level in a paddling pool
Purchase sinker toys (Amazon have great and cheap ones) try to get the children to look for them in the water in the clear bath water (don't use bubble bath) or the paddling pool.

This will encourage them to hold their breath and develop the correct body position for swimming.
Only use arm bands or discs when swimming with children, this encourages them to kick.
Remember to make swimming fun when with the family. Use siblings to encourage a nervous child to get involved in all swimming activities.
Water Safety
With the summer holidays fast approaching our Swimming Coordinator at Darrick Wood, Sophie has some top tips to keep safe at the beach.
Swimming lessons
Lessons are still on at the Spa, West Wickham, Biggin Hill, Darrick Wood and Walnuts this summer.  Lessons at the Pavilion end for the summer term on 23rd July and resume on the 29th August.
Please do ask reception for a swimming hat for any children stage 1 upwards, this is not only for hygiene and safety reasons but helps us quickly recognise children for the correct stage and prepares them for swimming.
Any preschool children who are starting school in September and haven't yet moved up to after school and weekends classes please do consider doing this soon as September is a very busy time of year for Swim School compared to the quieter summer months, the priority window for movements ends on 23rd July.
We do still have some spaces on our crash courses over the summer holidays please do take a look at the link
Wishing you all a lovely summer
The Swimming Team (Sarah, Joe, Vicki, Sophie and Tara)